I  help men rewrite their false stories that have limited their masculinity, relationships, and identity, so that they can find balance, fulfillment, and a deeper connection within themselves and others.
THE TIME IS NOW.
In life we experience small as well as enormous size traumas that shift our views around important areas of our lives. Oftentimes we bury these traumas deep within us, covered with the dirt of fear and insecurities. It's like a small seed that we plant in our garden bodies, deep in a protected area that no one has access to. Without thinking, we begin providing these trauma seeds with all the nutrients it needs to grow. Things like doubt, limiting beliefs, insecurities, judgement, shame, addictions, lies and many other things. This seedlike trauma begins to grow more and more everyday. It begins to root itself in our belief system. While we remain unaware of its growth, these seeds produce branches all throughout our lives. It begins to sprout in our relationships, our jobs, our mind, our bodies and many other areas of our lives. We create triggers around these branches of trauma. Once this trauma matures, it creeps into our household, impacting everyone.
I will help you remember your greatness and cut down any trees that are shading your life from true happiness and fulfilment.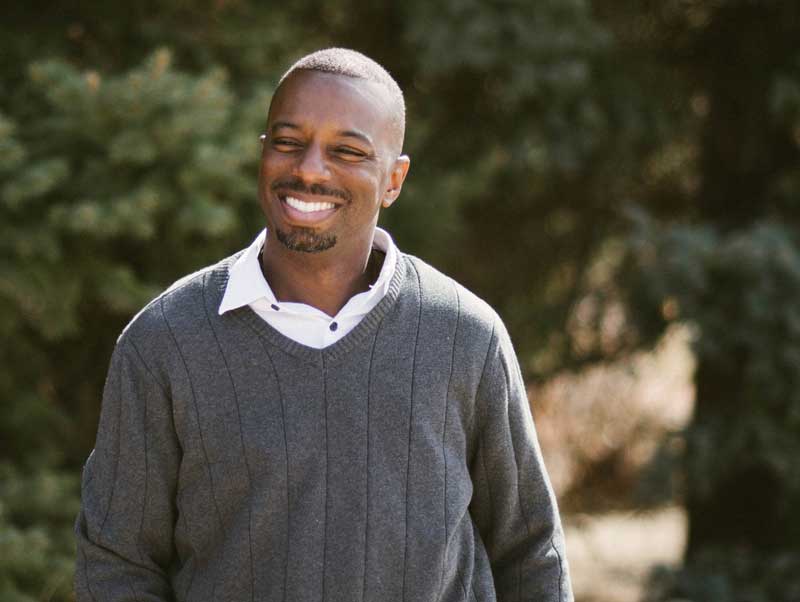 HI, I'M AARON.
I left home and joined the Air Force when I was 18 years old. I was in search of brotherhood, I needed discipline, and I longed for a rite of passage as young boy becoming a man. While the military offered me much in the form of self-regulation and perseverance, it also helped me realize just how distant we, as men, can become from our emotions. I also realized that the true art of initiation passed down from our ancestors had been lost. I continued my journey over the last two decades — as a musician, sales executive, independent contractor, and now full-time life coaching for men — motivated by the longing to express myself authentically in the world and live in alignment with my truth. It is only from this place that I can be a guide for others along their path of transformation.
MY APPROACH
I received my Certified Professional Co-active Coaching Certification (CPCC) through The Co-Active Training Institute (CTI), one of the largest and most well-known life-coaching training programs in the world and one of the most recognized leadership training institutions in the industry. My coaching style is a combination of intuition, unique life perspective, and the co-active coaching methodology. With this foundation, I have designed a three-step process (ARC) to help guide you through rewriting your story, strengthening your family connection and living a more fulfilling life.
ACTIVATE AWARENESS
Awareness is the root of becoming knowledgeable about yourself and others. Awareness generates connection.
REWRITING YOUR STORY
You are the main character in the stories you create. What stories are you telling yourself that's impacting your life.
CULTIVATE CONNECTION
Develop strong connections with like-minded people who will support you and honor your growth.
THE FOUR CORNERSTONES
The four cornerstones of co-active coaching establish the foundation from which I, as your coach, approach and perceive our relationship and your evolution.
HUMANS ARE NATURALLY CREATIVE, RESOURCEFUL, AND WHOLE.
    You aren't broken and you don't need to be fixed. You already have a natural ability to resolve the challenges you face.

2. DANCE IN THE MOMENT.
Working with what arises in the present moment is always more beneficial than adhering to a rigid plan. Our coaching relationship is a fluid exchange and everything that happens is an opportunity for learning and movement.
3. FOCUS ON THE WHOLE PERSON.
    We are complex and unique creatures and it is important to address all aspects of being human — mind, body, spirit, and emotion.
4. EVOKE TRANSFORMATION.
    The nature of life is to transform and evolve. It is imperative that we, as humans, call forth transformation in each other.
FIND OUT HOW TO WORK WITH ME
Explore my approach further and discover how you can transform your life.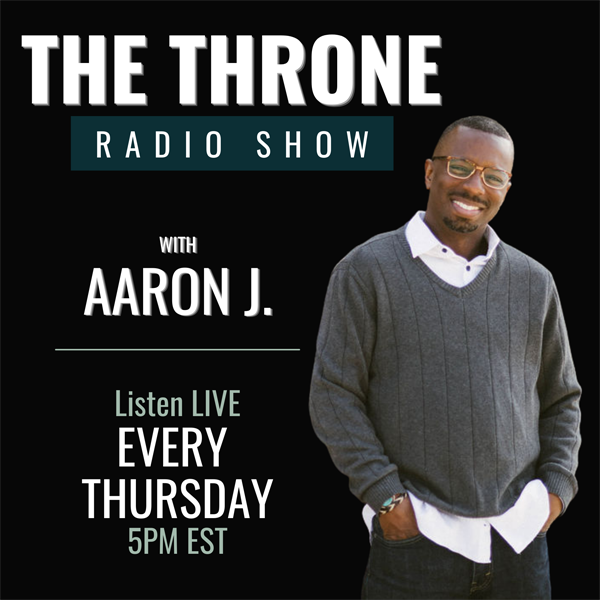 THE THRONE
Radio Show with Aaron J
Listen LIVE Every Thursday
5PM EST
The Throne helps men rediscover their true mature masculinity by diving deep into the world of men. This show will increase your awareness around the daily challenges we encounter as men. You'll re-crown yourself as King while unleashing your warrior to reclaim what is rightfully yours. You'll tap into your sexual desires and reignite the flame in your relationship. You'll discover new things about yourself and awaken your true divine masculinity. The time is now.
Welcome to the THRONE!
"Aaron has a talent for coaching men. His empathy shines through, making you feel heard in a deep and powerful way."
"Aaron is a level headed coach with very clear thinking. He focuses on the big picture and is an extremely creative person that will formulate a plan for a positive end result."
"Aaron is a positive, determined, genuine person with amazing coaching skills. I appreciate his work."